Kotofoto - Category 1
Active
Created 2021/05/21
Updated 11 hours ago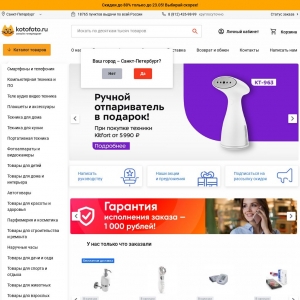 CATEGORY
Интернет магазины
DESCRIPTION
Kotofoto online store specializes in online sale of electronics in Moscow and other Russian cities. The catalog of products of the company "Kotofoto" is full of various offers. The website of the web-market sells photo and video equipment, mobile gad ...
RESTRICTIONS
Features:
GEO: Russia.
Deciphering categories HERE
Exclude traffic types:
Motivated traffic.
Contextual advertising on the brand.
Mobile traffic.

Adult.
PopUp advertising.
ClickUnder advertising.
Toolbar traffic.
Email - sending (by agreement).